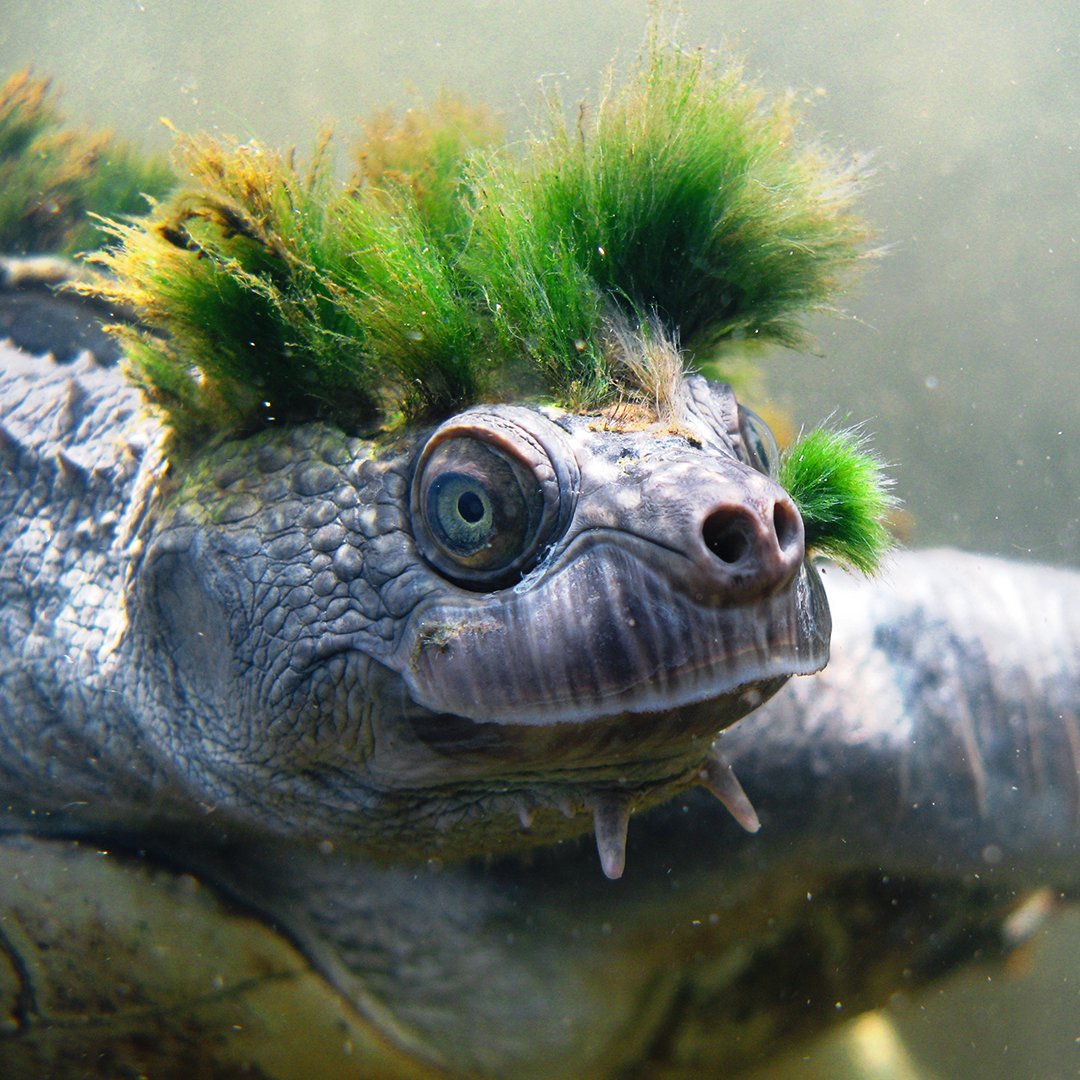 SPECIES: Elusor macrurus — Mary River Turtle
CLASSIFICATION: Endangered
The Mary River Turtle is currently listed as endangered under Queensland's Nature Conservation Act 1992, and under the federal Environmental Protection and Biodiversity Conservation (EPBC) Act, 1999. The international conservation body IUCN lists it as endangered on the IUCN Red List. The Zoological Society of London recently assessed it as the 30th most endangered reptile in the world on their Evolutionarily Distinct and Globally Endangered list (EDGE of Existence program).
Quite "punky" in appearance, the Mary River Turtle grows facial algae and barbel-like fleshy spikes under its chin. A species endemic to the Mary River in south-east Queensland, it was unfortunately was kept as a pet for more than 20 years before it was officially recognised as a species. The Mary River Turtle also has a strange adaptation of being able to breathe through its bottom, which provides it with the ability to stay under water for up to three days at a time.
Threats to the Mary River Turtle include predation of hatchlings by red foxes, wild dogs, goannas and fish, especially during the hatchling and juvenile stages of life. They are a monotypic genus (having only one species in the genius) representing a very old lineage of turtles that has all but disappeared from the evolutionary history of Australia.
FAME is partnering to save the Mary River Turtle by funding a hatchling program with the aim to increase the remaining wild population of Mary River Turtles. To make a donation to the project or for more info, visit the project page of the website: https://www.fame.org.au/projects/saving-the-mary-r...
Photo: Chris Van Wyk