It's fantastic to be able to finish 2020 with yet more good news as a result of your donations and support. Again, it relates to our long-term support for the repopulation of Idnya (Western Quoll) and Virida (Brush-tailed Possum) in the Ikara-Northern Flinders Ranges.
You will recall the very upbeat update last May by the South Australian Department for Environment and Water (DEW) of the territory expansion by both species following their reintroduction over the past six or so years of our Foundation's partnership with DEW.
Today, I'm very happy to report that in the most recent monitoring exercise, no fewer than 91 individual Idnya were trapped. This is significantly more than the previous trappings in December 2017 and March 2018 when 56 and 58 individuals were captured respectively.
Particularly encouraging is that more than half of the animals captured were recently weaned young animals. Two students, using radio collars and cameras, are assessing young animal dispersal over the summer period, paying attention to the cat-baited area.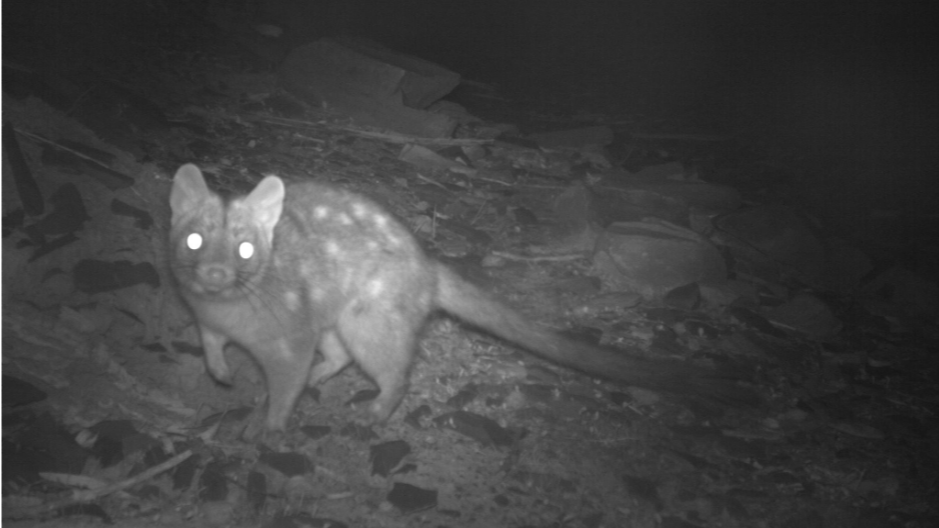 DEW advises that there is still a great deal of camera data to process so as new information comes to hand, I will keep you updated.
As for the Virida population, DEW reports that there are positive indications there too. Of the 19 animals captured, there were more younger animals than in the past. This is another good sign.
Take a bow again ... you're making wonderful work possible.
Photo above courtesy of DEW, a Western Quoll captured on sensor camera.