Eucalyptus trees are iconically Australian. There are over 900 species of Eucalyptus found worldwide, 98% of which are found only in Australia. However, 59 species of Eucalyptus are listed by the Australian Government on the EPBC list as threatened.

The Foundation understands the importance of investing in research projects that provide opportunities to PhD students. Today, on National Eucalypt Day, FAME is pleased to announce our support of PhD student Eleanor Fox, as she develops her PhD looking at the populations and genetics of the Yarra and Strzelecki Gums, at Federation University Australia.


The project:
Yarra Gum (Eucalyptus yarraensis) and Strzelecki Gum (Eucalyptus strzeleckii) are two Eucalyptus species which only occur in Victoria. The distributions of both species are severely fragmented and disconnected as a result of urbanisation, agricultural expansion and development since European colonisation.

Eleanor's PhD study will map locations of remaining populations of Strzelecki Gum and Yarra Gum across Victoria, and investigate their genetic diversity and connectivity. Genetic sequencing methods will be used to assess the genetic characteristics of Eucalyptus seed stock used in commercial revegetation projects. Genetic data from the wild populations and seedstock will help to develop a conservation strategy for these species, and will identify priority areas for genetically diverse tree plantings. The study will provide data that is essential to creating future landscapes that include populations of these iconic species that are genetically diverse, well connected, and well-placed to adapt to future climates.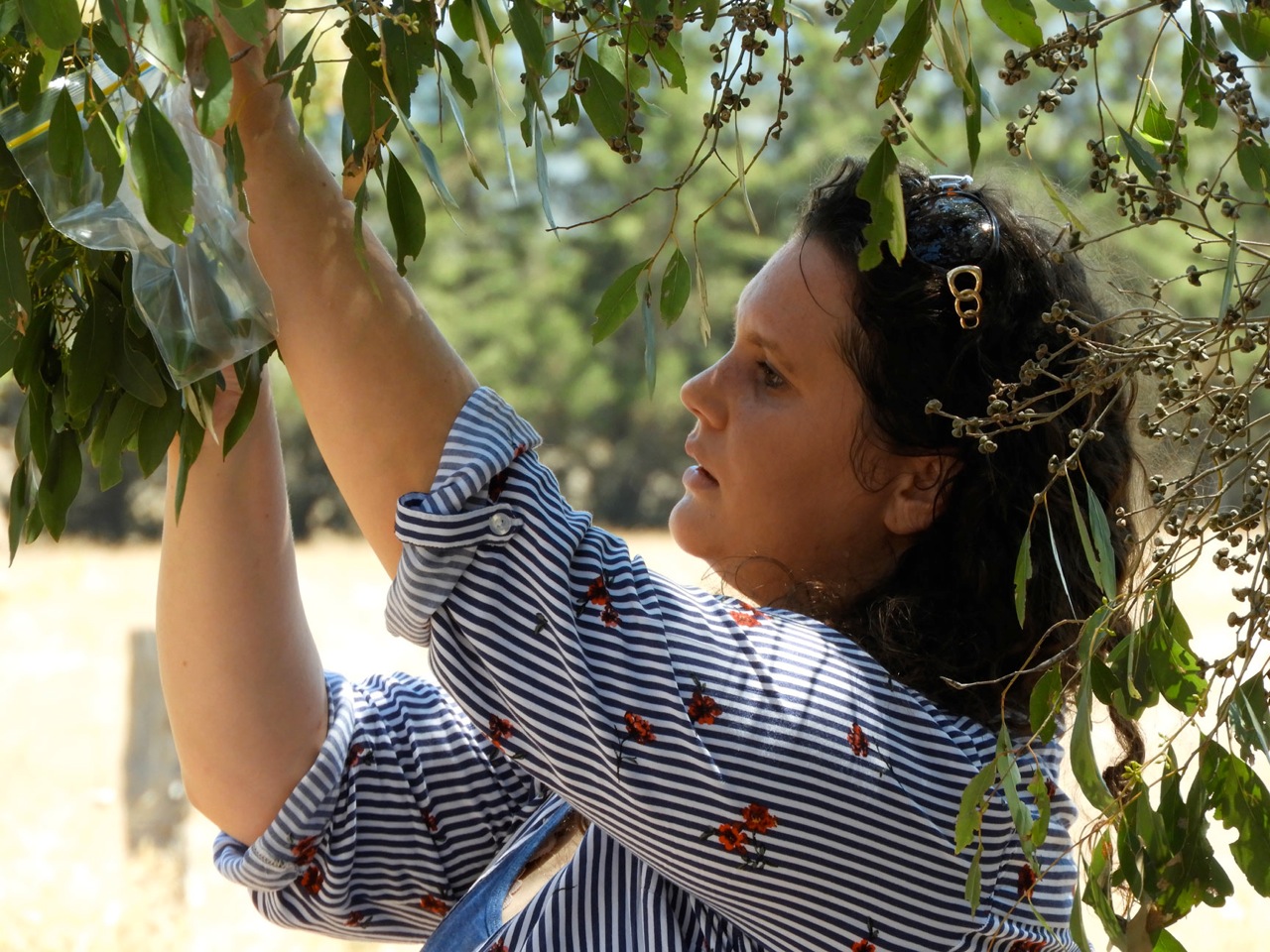 PhD student Eleanor Fox collecting Strzelecki Gum leaf samples. (Photo: I.Proebsting)

Expected outcomes from research:
Outcomes from this research will include:
contemporary mapping of remaining Yarra Gum and Strzelecki Gum populations across Victoria, creating an accurate distribution map of these two species for the first time. This map will inform future management of the species by providing information about habitat preferences and potential areas for successful revegetation,
genetic profiles of Yarra Gum and Strzelecki Gum, facilitating genetic analysis of the species to improve our understanding of population structure, genetic diversity, gene flow across the landscape, in turn informing our management of these rare and threatened species, and
new information about the genetic makeup of nursery seed stock to ensure that revegetation efforts are enhancing rather than degrading the genetic diversity of these species.

For more information on Eleanor's PhD study, visit the project page on our website or telephone the Foundation on +61 8 8374 1744.