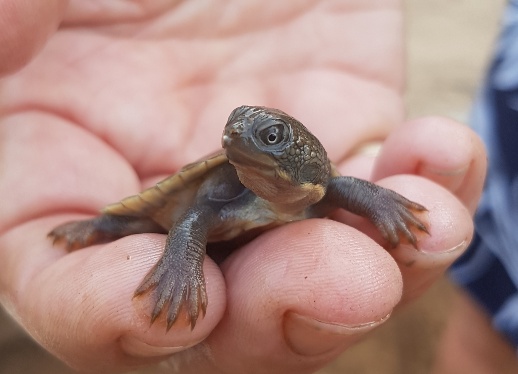 You may think it insensitive to launch our Autumn Appeal for funds given it is so proximate to the dreadful bushfires and, in short time, floods. Dorothea McKellar's 1908 poem holds true.
But, in fact, I am pleased to launch our appeal at this time because, despite the relentless bad news, some very good things are happening and, for the first time, I can share with you one particular and very encouraging development in one of our committed projects.

Enter the 'Mary River Turtle' – so cute that, at one time, 10,000 a year found their way into pet shops; so in demand that its population dropped by 95% over 50 years and is now listed as an endangered species and so vulnerable at hatchling time to the predations of wild dogs, goannas and certain fish.

It is wonderful to be able to tell you that FAME's involvement in saving the Mary River Turtle, affectionately known as the Pet Shop Turtle or The Penny Turtle is delivering in spades. With FAME's help:
30 Turtle nests are being protected and monitored,
eggs have been collected and incubated,
veterinary support is provided and, eventually,
newly hatched Turtles will be tagged and released.
We had to wait to bring you the good news because the project itself and its location in south-east Queensland are highly sensitive and because we fear poachers creating a black market in these lovely creatures.
It is difficult to overstate our excitement about the success of this project. Actually, we're over the moon now that the first hatchlings have emerged and are thriving in a series of protected nests.

FAME has committed $50,000 to this very worthwhile project; to date, we have raised $13,320. So, thank you, our wonderful donors but, as is so often the case, we need more funds.

Please join me and consider making a tax-deductible donation.
The Mary River Turtle project aside, the devastation wrought on Australia's wildlife by the fires is now well-known with a recent government analysis listing 113 species in need of urgent attention. We are stepping up our commitment in response to this emergency while maintaining the commitment to our various other projects and programs.

Hence, our Autumn Appeal. Arguably, at this particular time, there may never have been more need.

Please join me to help the Foundation save the Mary River "Punk" Turtle. With your support*, we can make this a reality.

With my very best wishes

Tracy McNamara
Chief Executive Officer
P.S. If you have any questions about FAME and our projects please
email me
or telephone our office on 08 8374 1744.


*All donations are tax deductible
Photo above: one of the first Mary River Turtle hatchlings being cared for as part of the project. (Tiaro Landcare)